1

2. The Current State of Nutrition and Fitness
To begin, we'll be analysing the current state of the world's fitness and nutritional issues, explaining how genetics can be used in helping to solve many of these. Recently, as you will know, obesity rates have been rising rapidly. But why? This module will investigate obesity and how nutrigenomics and sports genetics can help to improve our diets and training regimes. We'll also go over what factors make an Olympic athlete and the role that this science is destined to play in the very near future.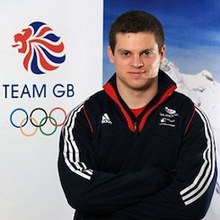 Former Olympian
Craig Pickering
One of only 8 people in the UK ever to be selected for both the summer and winter Olympic games, Craig Pickering is a British Olympic athlete in both the 100m/4x100m relay and in Bobsleigh. As an athlete, Craig is one of only 8 British athletes in history to have been successfully selected for both summer and winter games. With a career spanning every level of sporting success, Craig was forced to retire with a back injury in 2014. Craig is Head of Sports Science at DNAFit, helping inform and deliver the company's work with everyone from professional sports teams to absolute beginners with an elite ambition. Craig holds a BSc in Sport and Exercise Science from the University of Bath and is currently studying a professional doctorate in elite performance.